Roundups
10 Best Non-Toxic Sunscreens
For the beach and all your outdoor sweaty activities. Reef safe too!
20 May 2019
We updated our sunscreen roundup for 2019 with the 10 best reviewed, non-toxic mineral sunscreens we could find. As always, we make sure that our picks are easy to find online and in stores.
Sunscreen in our minds is synonymous with summer and being outside! But there are so many choices, it's hard to know if what you're getting is something that actually works and that other people like. Not to mention that there are some questionable chemicals in sunscreens that are definitely horrible for coral reefs and might be endocrine disruptors that soak through your skin. So look for one of our top 10 picks for non-toxic sunscreens the next time your tube is empty. We have plenty of options for everyday wear, sweaty sports and beach days! If you're looking for a baby or toddler sunscreen, be sure to check out our best 13 non-toxic baby sunscreen options.

---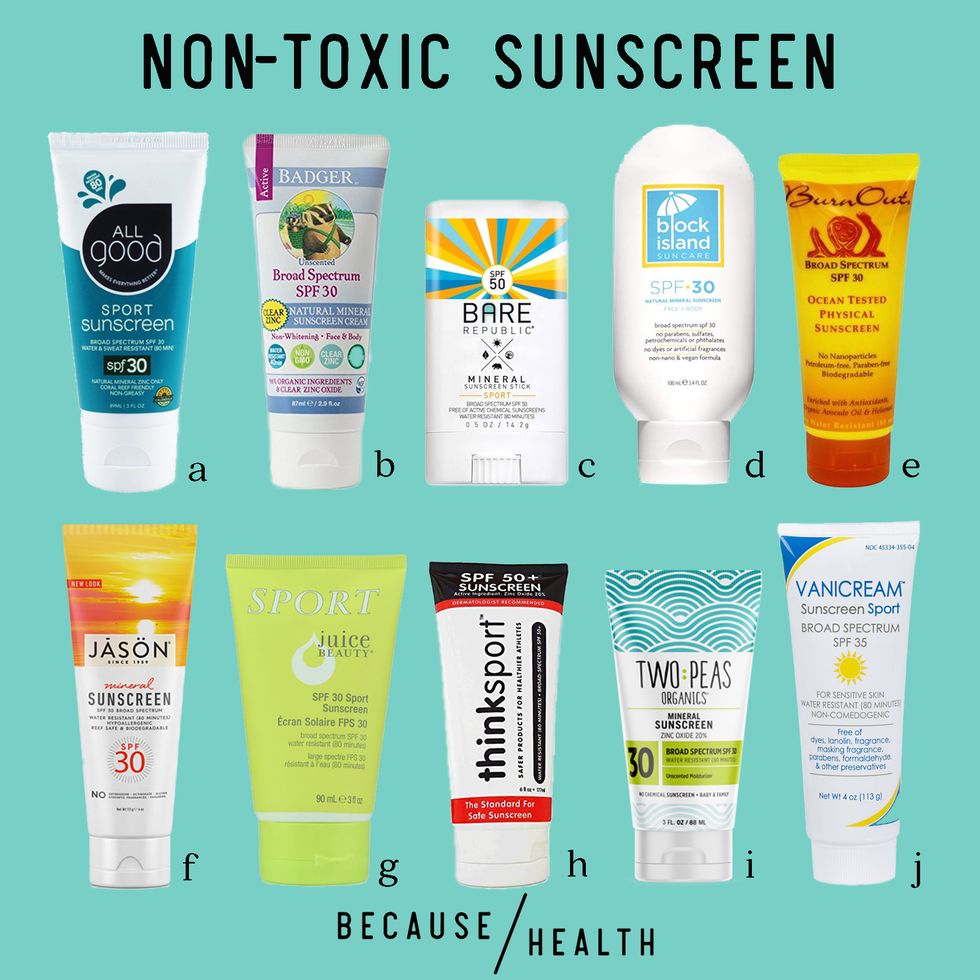 a) All Good Sport Sunscreen SPF 30 b) Badger Clear Zinc Regular and Sport Sunscreen SPF 30 c) Bare Republic Mineral SPF 50 Sport Sunscreen Stick d) Block Island Natural Mineral Sunscreen SPF 30 e) BurnOut Ocean Tested Sunscreen SPF 30 f) Jason Mineral Sunscreen SPF 30 Broad Spectrum g) Juice Beauty SPF 30 Sport Sunscreen h) Thinksport Safe Sunscreen SPF 50 i) Two Peas Organics SPF 30 Unscented Mineral Sunscreen j) Vanicream Sunscreen Sport Broad Spectrum SPF 35
Because Health is a participant in the Amazon Services LLC Associates Program, an affiliate advertising program so that when you click through our Amazon links, a percentage of the proceeds from your purchases will go to Because Health. We encourage you to shop locally, but if you do buy online buying through our links will help us continue the critical environmental health education work we do. Our participation does not influence our product recommendations. To read more about how we recommend products, go to our methodology page.