Roundups
13 Non-Toxic Lotions
stay moisturized without feeling sticky, slippery, or like you're covered in chemicals
16 October 2018
Nobody likes feeling like a lizard. But, at the same time, nobody likes researching for safe products. Good news, we did the research and found you 13 wonderful body moisturizers and lotions. If you are looking for a luxurious lotion or just want to keep your hands from cracking, this list has you covered. And, the products are well reviewed all over the internet and easy to find both online and in your typical drug stores or beauty aisles.
---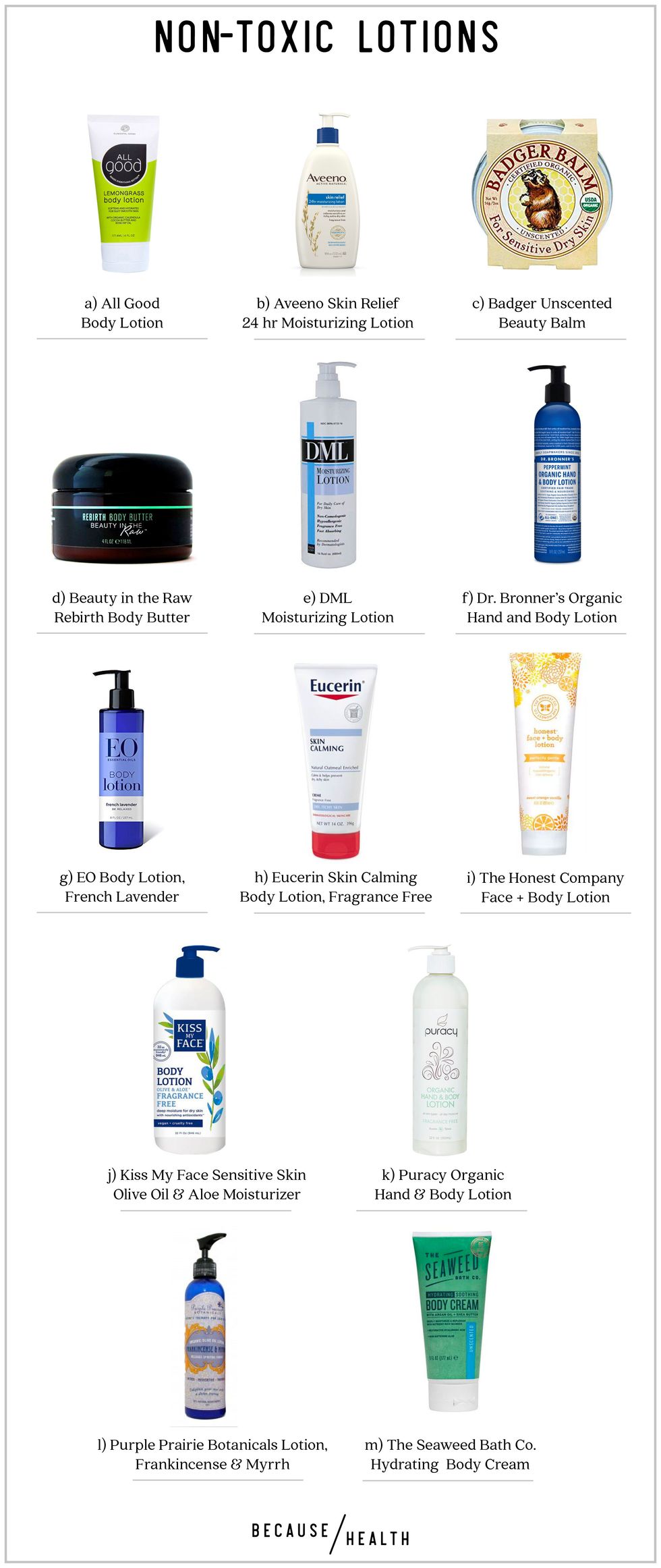 a) All Good Body Lotion b) Aveeno Skin Relief 24hr Moisturizing Lotion c) Badger Unscented Beauty Balm d) Beauty in the Raw Rebirth Body Butter e) DML Moisturizing Lotion f) Dr. Bronner's Organic Hand and Body Lotion g) EO Body Lotion, French Lavender h) Eucerin Skin Calming Body Lotion, Fragrance Free i) The Honest Company Face + Body Lotion j) Kiss My Face Sensitive Skin Olive Oil & Aloe Moisturizer k) Puracy Organic Hand & Body Lotion l) Purple Prairie Botanicals Lotion, Frankincense & Myrrh m) The Seaweed Bath Co. Hydrating Body Cream
We rely on EWG's consumer databases, the Think Dirty App, Made Safe, and GoodGuide in addition to consumer reviews and widespread availability of products to generate these recommendations. Learn more on our methodology page.
*Because Health is a participant in the Amazon Services LLC Associates Program, an affiliate advertising program so that when you click through our Amazon links, a percentage of the proceeds from your purchases will go to Because Health. We encourage you to shop locally, but if you do buy online buying through our links will help us continue the critical environmental health education work we do. Our participation does not influence our product recommendations. To read more about how we recommend products, go to our methodology page.
Related Articles Around the Web