Food
Adding excitement to your grocery shopping!
The next time your pantry is looking scarce, skip the retail store and head to your local farmers' market! Not only are these foods better for your health, but they often use less fossil fuels and you'll be contributing to the fight against climate change.
Supermarkets vs Farmers Markets
You may not realize it, but the food you see on the shelves in your neighborhood supermarket probably required a large amount of fossil fuel to get there. How else would a peach show up on the shelf in the middle of February?! Fossil fuels are needed to power machinery on farms, to transport food from other countries, to produce food packaging, and to create fertilizers and pesticides (1). And as we already know, fossil fuel consumption plays a huge role in climate change.
Instead of relying on internationally-sourced produce and lots of plastic, farmers' markets create a space where the focus is on locally produced food. Most markets only allow vendors to sell food that has been produced within 200 miles of the venue. Some markets are even more stringent and only allow the sale of food grown in the community or immediate surrounding farms. This has a huge impact in reducing the amount of fuel that is needed in the transportation of these foods. On average, locally sourced produce travels 27 times less distance compared to massed produced food (2). Less fossil fuels used means less stress on the climate!
Another problem with supermarkets is that they can rely on a ton of plastic to store its produce. Sometimes the plastic is needed to keep the produce fresh as it sits on shelves, sometimes it doesn't seem to serve a purpose at all (plastic-wrapped bananas, anyone?). Not only are these plastics unneeded, but they also have a toll on the environment. Over 99% of plastic is made from chemicals coming from fossil fuels (3). Plastics are responsible for clogging our drainage systems, leaching harmful chemicals that contaminate groundwater, and injuring and poisoning wildlife (4).
To reduce the amount of plastic waste, and thus fossil fuels, farmers opt out of using plastic packaging and market patrons are encouraged to bring reusable shopping bags to stow their purchases. Vendors at a farmers' market often stock produce on tables without any packaging whatsoever! Berries may come in a plastic container, but overall plastic use is pretty minimal.
Why Farmers' Markets?
Shopping at a farmers' market gives you a chance to connect directly with farmers and their support team. You can learn where the food was grown, and the important decisions behind certain growing practices like the cultivation of crops without the use of chemical fertilizers, pesticides, or other artificial agents AKA organic farming. A lot of vendors are certified organic by the USDA. If you're unsure, just ask!
An additional reason to shop at farmers' markets is because they often provide a wide-variety of foods that are not available in grocery stores. Ever wonder what a pluot or zebra melon taste like? Go to a farmers' market to find out! You can taste before you buy to discover and find new favorites. Also, vendors eat what they sell, so they can suggest ways to cook the fresh kohlrabi you've just bought but have never used before.
For those of you who live in areas with seasons, farmers' markets don't stop when the leaves fall and the snow comes. Some markets continue to operate and bring fresh food to communities year-round. Come winter, farmers begin to sell their fall storage crops such as potatoes, carrots, beets, onions, garlic, and squash. Some farmers with greenhouses will have spinach, arugula, chard and other hardy produce available.
Getting Started
Are you now convinced to pay your local farmers' market a visit? Not only is this experience more fun than your routine trip to the supermarket, but farmers' markets are also a great opportunity to introduce your family to healthy eating and environmentally responsible consumption. You are ultimately investing in your health and doing your part in combating climate change.
To start, you can go online and search for local farmers markets in your area to find out their hours of operation and location. Note that this information may change based on the season. When there, strike up a conversation with a farmer to learn more about the products they offer and the environmental practices they use in their business.
References
Want an easy way to live healthier?
Sign up for our newsletter! Curated environmental health news delivered to your inbox every three weeks.
Donate
Life
It's not just an environmental problem…
We know climate change poses a real and serious threat; scientists have observed Earth's temperature steadily rise by one degree Fahrenheit over the last 100 years (1). But when we think of climate change, an image of a polar bear on a dwindling iceberg usually comes to everyone's mind. There's so much emphasis on the environmental impacts of climate change, we often forget that climate change is also negatively impacting our health. How? Read on…
Air pollution
Even though you can't see it unless it's a super smoggy day, air pollution is a huge threat to our health. Burning coal, oil, and gas are big contributors to climate change, and they also release harmful air pollutants like particulate matter, nitrogen dioxide, ozone, and sulphur dioxide into the atmosphere. These pollutants have been linked to serious diseases, and can cause severe symptoms in people with heart and lung conditions. When you breathe in, these pollutants get trapped in your nose, travel to your airway, and even enter into your bloodstream. Exposure to these pollutants have been linked to death in people with heart or lung disease, heart attacks, irregular heartbeats, aggravated asthma, decreased lung function, and increased respiratory symptoms (2). It is estimated that 4.2 million people a year die from air pollution (3).
Extreme Weather Events
Nowadays, it's hard to not hear about extreme weather on the television or radio no matter what time of year it is. Extreme weather events like heat waves, drought, floods, and hurricanes are increasing both in intensity and frequency due to climate change. The Center for Climate and Energy Solutions created an interactive map that highlights just how many extreme weather events occurred in the past decade. The Guardian also has published a visual guide of the human toll from 2018 climate disasters. In 2018 alone, Europe faced both heatwaves and freezing weather, Argentina suffered through droughts that decimated croplands, India experienced record high flooding, and the United States endured hurricanes and fires. That same year, 10,373 people lost their lives due to disasters, and 61.7 million people were affected by natural hazards (5). As climate change continues, these numbers will only get worse.
Increased Vector-Borne Disease
Very few things can ruin a beautiful summer day, but a swarm of mosquitoes is definitely one of them. Just the thought of their buzzing has us lathering on bug spray and lighting citronella candles! Unfortunately, with worsening climate change, we are in for a lot more buzzing.
Changes in temperature, rainfall, and humidity brought on by climate change have allowed vectors like mosquitoes, ticks, and rodents that carry infectious agents to migrate to new areas (6). With the expansion of their habitats and breeding grounds, these vectors are coming into contact with more people, and more interactions with people means more chance of infection. We've seen higher incidences of diseases like malaria, Lyme disease, and West Nile virus in recent years. To make things worse, a warming climate also allow vectors and the microbes inside of them to grow and reproduce at a faster rate (7).
What You Can Do
While the statistics on climate change are sobering, there's a lot you can do to protect your health! Being prepared and taking small precautions can keep you safe no matter what a changing climate throws at you.
If you are travelling to a heavily polluted area, you can limit exposure to harmful pollutants by wearing an air mask. Look for masks called a "particulate respirator" with the word "NIOSH" and either "N95" or "P100" on the package information. Make sure to replace your mask with a new one every few days (if the mask if reusable to begin with).
If you live in a buggy area, apply bug sprays before going out to ward off disease-carrying insects and reapply when necessary. Check out our insect repellent guide to find out which repellent is right for you!
And if you live in an area that is prone to natural disasters, purchase or assemble an emergency kit to store in your home. There are kits that are specific for flooding, hurricanes, heat waves, and other natural disasters. Make sure to have these kits readily available know how to use them.
References
Home
Help fight back against climate change without leaving your house!
There's no denying it, the planet is warming. Countries around the world saw record-breaking temperatures the past two months. July 2019 was the was the hottest month in recorded history and June 2019 following closely behind in second place. On top of the extreme heat, sea ice has fallen to unprecedented lows, nearly 20% below the average (1). We're already seeing the negative impacts of a changing climate, which is why we need to take urgent action in our day-to-day lives and take steps towards a more sustainable lifestyle.
The following tips and strategies will not only allow you to do your part in the fight against climate change, but also have the additional benefit of saving you money!
How Electricity Use Contributes to Climate Change
Climate change is caused by the emission of greenhouse gasses namely from combustion of fossil fuels for energy. In order to use energy for transportation, heating, and electricity, fossil fuels are burned and the process releases unnatural amounts of gasses like carbon dioxide and methane. The chemical composition and structure of these gasses make it difficult for the sun's energy to pass through them, and the result is that they trap the sun's heat in the atmosphere, warming the planet (2). The greenhouse effect is a natural process necessary to sustain life on Earth, but human activity has caused concentrations of these greenhouse gasses that are beyond the capacity of normal climate fluctuations.
What You Can Do To Save Energy at Home
Electricity production is the second largest source of fossil fuel emissions, second only to transportation. Use the following tips to change your consumption patterns and live a more sustainable life!
Turn off the lights and unplug appliances that aren't being used - it might seem like this individual action would only save minuscule amounts of energy, but it really adds up! The World Health Organization calculated that switching off five unused lights in your home when they are unused can avoid about 400 kg of CO2 emissions per year (3).
Purchase energy efficient light bulbs! Although these are more expensive in the short term, they last way longer and help you save on energy costs, saving you money in the long run. Switching one light bulb to an energy efficient bulb in your home could avoid another 400kg of CO2 emissions in one ear (3)
Limit water usage by taking shorter showers and turning water off when brushing teeth. The average shower uses about 5 gallons of water per minute. If you shorten your shower by 3 minutes, you can cut your water use by 15 gallons! (4)
Use air conditioning efficiently! AC accounts for nearly 6% of household energy usage in the United States. Your AC consumption (and electricity bill) can be significantly lowered through the use of high efficiency air conditioning units. If you're not in the market for a new AC unit, regular cleaning and filter replacements for your current AC can do wonders for efficiency (5).
While we're on the subject of AC… use air conditioning less. You can save money and keep your home cool in ways that avoid AC use altogether! Seal and insulate air ducts, walls, cracks, openings, and doorways to prevent heat from sneaking in. Make use of ceiling fans and natural ventilation, and refrain from cooking inside on hot days (5).
Install energy efficient solar curtains… and keep them closed! Energy efficient curtains help prevent heat from getting in during the hot months and prevent it from escaping during the colder months, allowing you to save on both heating and cooling energy and costs. Keeping curtains closed when possible enhances their effect (5).
Power down computers and activate sleep and hibernation settings. Putting your computer on sleep mode can reduce its energy consumption by about 87%. When you go to sleep, your computer should too (4)!
Wash your clothes in cold water. The majority of energy spent washing laundry is through the heating process and can be conserved simply by using colder wash cycles. Your clothes will still get clean in cold water!
Talk to your energy provider. You may be able to look at a breakdown of your energy consumption and see where you could cut corners. Many energy providers now also have the option to source your energy from wind or other clean sources. There are a lot of great options out there!
The list above outlines so many different ways you can adjust your habits to live a more sustainable life, but remember Rome was not built in a day! Make changes that are manageable for you and try to stick with them. Small changes can have a big impact over time. And remember, anything that saves you energy, is also saving you money! Try out a few tips this week!
References
Roundups
Our top picks for clean tasting hydration
If you've made it here, you probably already know that bottled water isn't great. Plastic in general can also be tough because of the ever popular BPA and it's sister chemicals. So we found the best 7 glass water bottles that are well reviewed and that you can bring with you everywhere. That assures that even if your plastic water bottle is BPA free, you won't have to worry about BPA replacements.
Glass does tend to be a bit more heavy than stainless steel, but sometimes people complain about stainless steel having a taste or not being as easy to wash. We like how with these glass bottles, you can flavor your water or even drink iced tea in them, throw them in the dishwasher and then put water in them without a nagging smell or taste. Some of these brands have different sizes and colors, so poke around to find a size and look that work for you.
Also, in case you're wondering, it's tough to find glass bottles without plastic lids, but if the water isn't constantly touching the lid, a plastic lid usually isn't something to get too worried about. If you have some old plastic reusable water bottles kicking around (who doesn't!) then check out our advice about how to use them safely.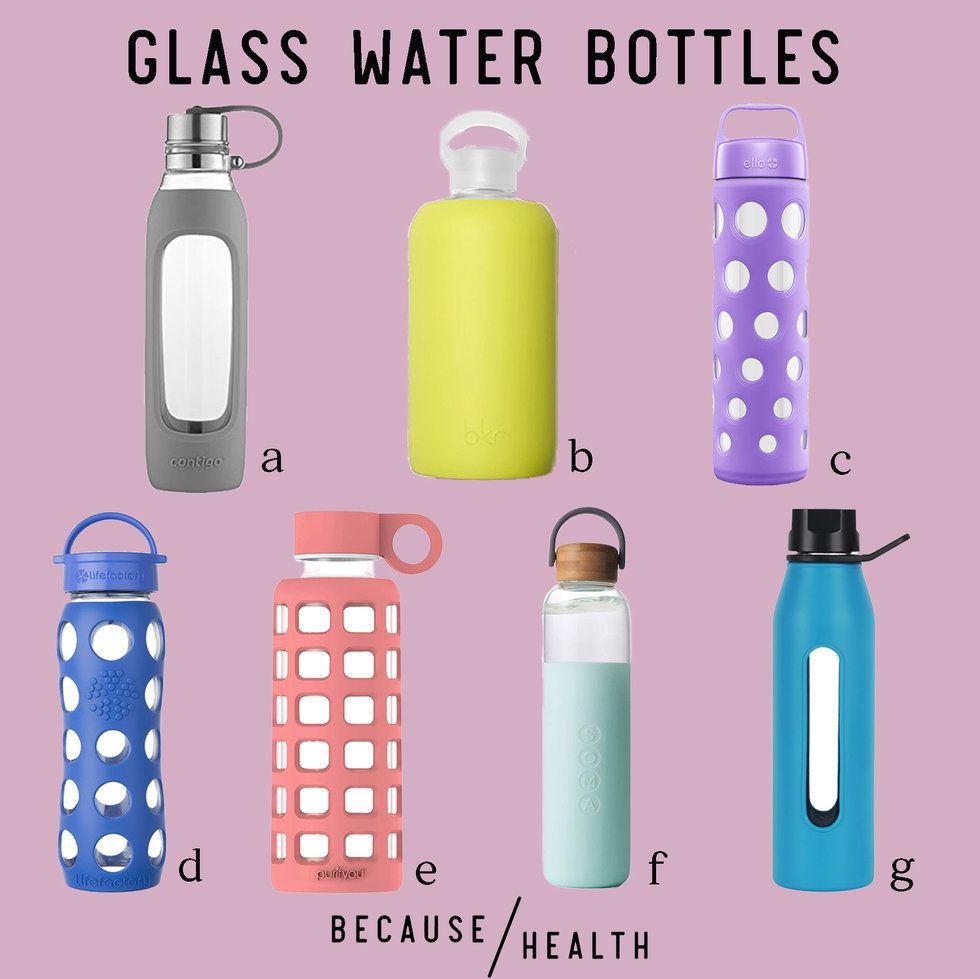 a) Bkr b) Contigo Purity c) Ello Pure d) Lifefactory with Classic Cap e) Purifyou f) Soma g) Takeya
*Because Health is a participant in the Amazon Services LLC Associates Program, an affiliate advertising program so that when you click through our Amazon links, a percentage of the proceeds from your purchases will go to Because Health. We encourage you to shop locally, but if you do buy online buying through our links will help us continue the critical environmental health education work we do. Our participation does not influence our product recommendations. To read more about how we recommend products, go to our methodology page.
popular
Testing Finds Arsenic in Bottled Water at Whole Foods
Bottled water is marketed as healthy, pristine, and pure. And people believe this, often paying a premium cost for water that they believe will be healthier than what comes out of the tap. Bottled water is one of the most-sold beverages in the United States — which makes it especially disturbing to think that it may not be so safe after all.
What's So Dangerous About Bottled Water?
Recent studies by the Center for Environmental Health and Consumer Reports have found alarming levels of harmful chemicals in bottled water sold across the country. In June 2019, the Center for Environmental Health tested popular bottled water brands Starkey, owned by Whole Foods, and Peñafiel, owned by Keurig Dr Pepper and found concerning levels of arsenic. These levels are high enough that we believe they require a warning label under California state law Proposition 65, but no such label is in use.
Family
Do your Part in Ensuring a Safe and Healthy School Environment for Children
The beginning of the new school year is right around the corner and school-aged children around the country will be heading back to an environment full of learning, creative expression, and…air pollution? Unfortunately, yes. Well, what does this even mean? And what can we do to help our children enjoy a safe and healthy environment at school? The answer is in idling! (or rather, NOT idling). Turn your key and be idle free!
Life
When stronger actually isn't better
Procrast-cleaning, spring-cleaning or regular ole-cleaning. Whatever it is, you're determined to clean every nook and cranny and you might just do so by scouring the grocery aisle for the strongest cleaners you can find. If you're on a roll, you might not stop until your house smells spick and span. And safe...right? When it comes to household cleaners, this is a case of stronger isn't necessarily better. The "clean" smell often associated with traditional cleaners are the result of A LOT chemicals that haven't been proven to actually clean any better. Plus, they come with their own set of health risks.
Want an easy way to live healthier?
Sign up for our newsletter! Curated environmental health news delivered to your inbox every three weeks.