Food
Our winter detox salad recipe
Sometimes the hardest part of cooking or meal prep can be figuring out what to make. It's hard to find a good balance between tasty and healthy. That's why we're sharing a tasty salad recipe that incorporates tips from our recent interview with Dr. Cynthia Li.
In our article titled 10 Science-Backed Ways to Detox With Cynthia Li, MD, Dr. Li mentions an important part of detoxing is to eat food your grandmother or great-grandmother would have recognized. Super processed food with a ton of hard-to-pronounce ingredients can have a detrimental effect on our health. There are certain foods that support detox more than others. This includes...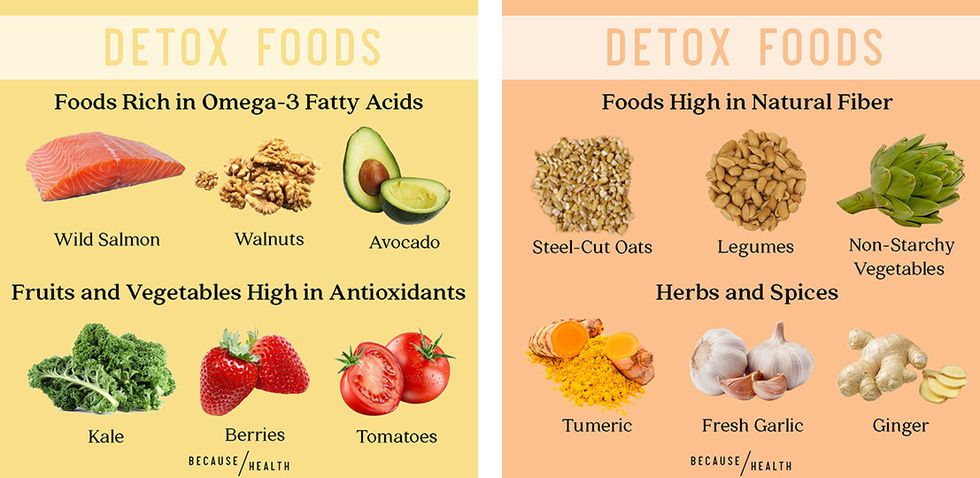 1. Foods rich in omega-3 fatty acids: wild salmon, walnuts & almonds, flax seeds freshly ground, avocado

2. Fruits and vegetables high in antioxidants: berries, kale, cabbage, tomatoes, citrus fruits, parsley, cilantro
3. Foods high in natural fiber: steel-cut oats, legumes, flaxseed meal, fruits & non-starchy vegetables
4. Herbs & spices: turmeric, fresh garlic, cumin, horseradish, ginger
It's easy to mix and match ingredients to create a ton of tasty dishes! The possibilities are endless. We created an awesome salad recipe using detox-approved ingredients. This salad is healthy, super tasty, and easy to make! You can also add protein and other seasonal fruit.
Kale, Chickpea, Avocado, and Citrus Salad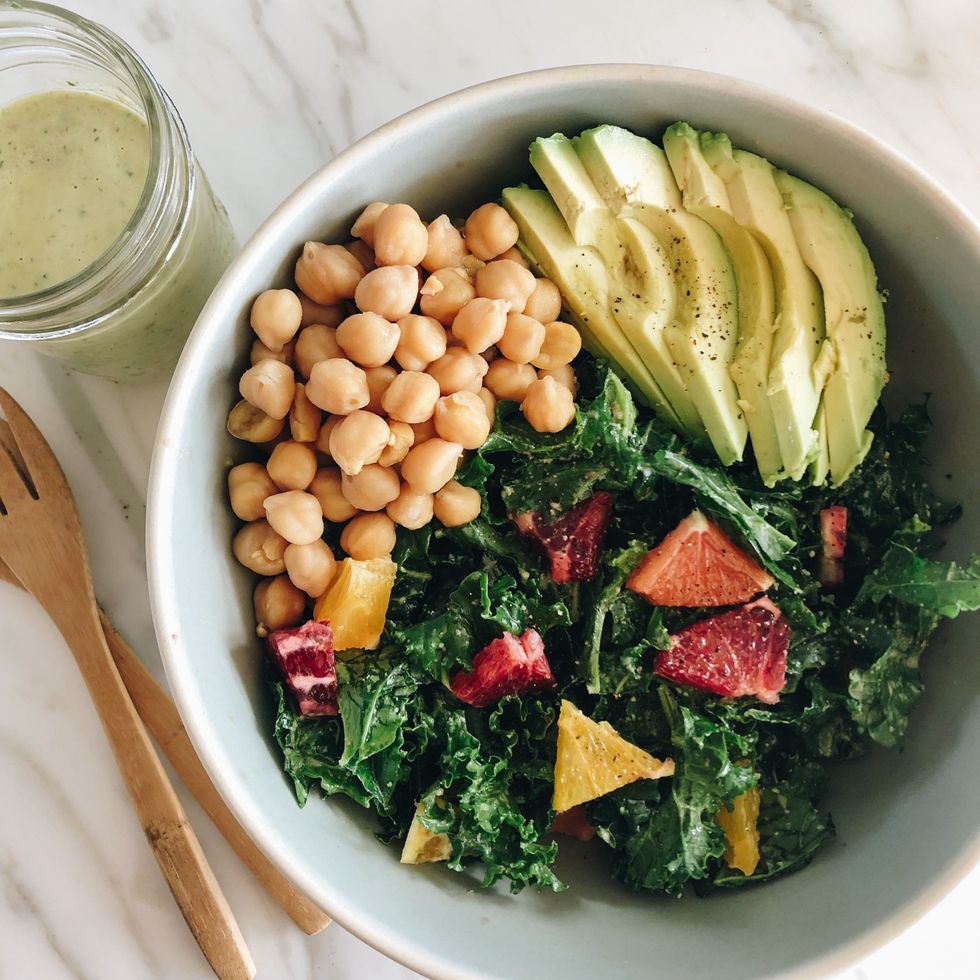 1 bunch kale, chopped into bite sized pieces

1/2 cup chickpeas (bonus points if cooked from dried beans or in a tetrapak or jar)
1 avocado, sliced
1 orange (or other citrus fruit) peeled and sliced
Creamy and Herby Walnut Dressing
1/3 cup walnuts
1 small garlic clove
1 Tbsp chopped parsley
3 Tbsp apple cider or white wine vinegar
1 Tbsp honey
1/3 cup olive oil
Salt and pepper
Instructions
Add walnuts, garlic, parsley, vinegar and honey to small food processor. Process until walnuts are in small chunks then start adding in olive oil
Massage kale with dressing then add toppings
Add dressing to taste
Enjoy!
Want an easy way to live healthier?
Sign up for our newsletter! Curated environmental health news delivered to your inbox every three weeks.
Donate
Food
Yes, you can detox. No, you don't have to go on a juice cleanse or buy weird supplements.
"Detoxing" seems to be the buzzword of the moment, but there are often conflicting opinions that go along with it. Is detoxing a legitimate way to boost health or is it just another misguided claim? We asked Cynthia Li, MD, about her experience with detoxing. Dr. Li has a private practice in integrative and functional medicine, and serves as faculty for the Healer's Art program at the University of California San Francisco Medical School. Dr. Li is also the author of a new book, Brave New Medicine, that shares tells the story of her disabling autoimmune illness, the limitations of Western medicine, and her hard-won lessons on healing, which include detoxifying the house and our bodies.
BH: First of all, what does "detoxing" mean exactly?!
CL: When I use the term "detoxification," I'm not referring to high-end spas or extreme juicing fasts, many of which can strain your budget or harm your body. Detoxification is simply the body's innate capacity to filter and eliminate unwanted substances that would otherwise build up, generate "oxidative stress," and contribute to chronic disease. We have several organs, or systems, that assist us with detoxification: the liver (the primary detox organ), the gut (where 70% of the immune system resides), the skin and respiratory system (primary defenses against environmental pollutants and harmful microorganisms), the immune system (lymphatic channels and nodes line the gut and respiratory systems), and the kidneys (urination and defecation are the two primary routes of elimination).
BH: When did you first become interested in the idea of detoxing?
CL: For years I struggled with brain fog, mood imbalances, chronic fatigue, chronic dizziness, insomnia, hypersensitivity to sounds, and other symptoms for which Western medicine didn't have a framework, much less a remedy. When I returned to the basics of pathology and physiology, I learned, or re-learned, how central detoxification is to maintaining good health, as well as to healing.
There are many conflicting opinions about detoxing- from integrative doctors and wellness experts prescribing highly tailored detox diets, to groups like Harvard Women's Health Watch calling detox "a dubious practice". How do we sort through the confusion? My journey as a patient forced me as a doctor to evaluate the science more closely.
BH: Tell us more
CL: The matter of detox, like most things in life, is more complex and variable than what the textbooks say. That's because of two simple facts: each of us is unique, and most of our detox systems aren't optimized. Our individual capacity to detoxify depends on multiple factors: (1) the genes we inherited from our parents , (2) our cumulative exposure to environmental pollutants , (3) the health of our gut, (4) regular elimination via the gut and kidneys (5) the availability of key nutrients necessary for our liver enzymes and immune system to work properly, and (5) our age.
BH: There's so much information out there! How can we detox our body in a safe and effective way?
CL: Beyond treatment for health challenges, detox is also best done regularly, 2-3 times a year, as prevention and health maintenance. Here are 10 simple steps anyone can take to promote detoxification:
1. Sleep more. In the deep stages of sleep, lymphatic channels in the brain open up and flush out unwanted waste products, including beta-amyloid, which has been associated with Alzheimer's Disease. (If you suffer from chronic insomnia, prioritize this with your health care practitioner.)
2. Eat your broccoli. Compounds in the Brassica family—kale, collards, beets, cauliflower, cabbage—boost your liver's detox enzymes, while providing other nutrients and antioxidants. Steam them, boil them, or mix them into a smoothie. Most functional nutritionists recommend no more than 1 serving a day of cooked Brassicas to avoid the suppressive effect higher amounts may have on the thyroid.
3. Don't skimp on protein. Amino acids like glycine boost your liver's detox enzymes, and cysteine is a necessary cofactor for metallothioneins (proteins that detoxify heavy metals). Bone broth, beans, and wild, oily fish are good sources.
4. Increase your fiber. Aim for regular bowel movements, 1-2 times a day. If you're constipated, biliary waste cannot be efficiently eliminated. And with gut flora imbalances, certain waste products may be reabsorbed into the bloodstream despite the liver having previously filtered it out. Good sources of fiber: non-starchy vegetables, nuts, seeds, flaxseed meal, and beans. Fiber supplements like psyllium or rice bran are alternative choices (~30 g per day + plenty of water).
5. Sweat. Exercise and sauna more. Ubiquitous environmental pollutants like phthalates and PCBs (perfluorinated compounds) have been found to be excreted in sweat. Stay well hydrated and shower off with Castille soap, like Dr. Bronner's.
6. Take a walk in a forest. Studies show this simple exercise reduces stress, improves sleep, and boosts the immune system, all of which facilitate detoxification. If there is no forest close by, take a walk in nature. The wellness benefits may be increased by taking your shoes off.
7. Heal toxic relationships. Easier said than done, but consider joining a support circle or a community forum, or starting therapy sessions. The connection between personal relationships and the immune system is one of the most robust findings in psychoneuroimmunology.
8. Have a cup of green tea. A compound in green tea (EGCG) can boost liver enzymes and also provide antioxidants to combat oxidative stress. Drinking green tea with each meal may help combat oxidative stress that comes from our meals. Opt for decaffeinated green tea if you're sensitive to caffeine or have sleep difficulties.
9. Eat food your grandmother or great-grandmother would have recognized. A whole foods, largely plant-based diet is the foundation for good health, including improved detoxification. Nothing manufactured can match the natural foods our bodies have evolved with.
10. Laugh regularly. Imbalances in thyroid hormones can rob you of simple pleasures, so watch a funny video, play with your dog or child, even fake a laugh (studies show the effects on the body are the same as a real laugh). Laugh while you take your daily thyroid prescription! Laugh while doing #s 1-9 above, too! Laughing boosts circulation, eases digestion, and improves sleep, among other benefits.
CL: There are also certain foods that support detox more than others. Incorporate as many as you can into your diet and enjoy their incredible flavors!
1. Foods rich in omega-3 fatty acids: wild salmon, walnuts & almonds, flax seeds freshly ground, avocado
2. Fruits and vegetables high in antioxidants: berries, kale, cabbage, tomatoes, citrus fruits, parsley, cilantro
3. Foods high in natural fiber: steel-cut oats, legumes, flaxseed meal, fruits & non-starchy vegetables
4. Herbs & spices: turmeric, fresh garlic, cumin, horseradish, ginger
References
Bremner I, Beattie JH. Metallothionein and the Trace Minerals. Annu Rev Nutr, 1990. 10:63-83
Durnas C, Loi DM, Cusack BJ. Hepatic Drug Metabolism and Aging. Clin Pharmacokinet, 19(5): 359-89, Nov 1990.
Genuis S, et al. Biomonitoring and Elimination of Perfluorinated Compounds and Polychlorinated Biphenyls through Perspiration: Blood, Urine, and Sweat Study. ISRN Toxicology, Vol 2013.
Jessen NA, et al. The Glymphatic System: A Beginner's Guide. Neurochem Res, 40(12):2583-99, Dec 2015.
Kiecolt-Glaser JK , et al. Close Relationships, Inflammation, and Health. Neurosci Biobehav Rev, 35(1): 33-38, Sept 2010.
Li Q. Effect of Forest Bathing Trips on Human Immune Function. Environ Health Prev Med, 15(1):9-17, Jan 2010.
Mora-Ripoll R. The Therapeutic Value of Laughter in Medicine, Altern There Health Med, 16(6):56-64, Nov-Dec 2010.
Mwenifumbo JC, Tyndale RF. Genetic Variability in CYP2A6 and the Pharmacokinetics of Nicotine. Pharmacogenomics, Vol 8, No 10, 1385-1402, Oct 2007.
Solomon GS, et al. Cumulative Environmental Impacts: Science and Policy to Protect Communities, Annual Review of Public Health, Vol 37: 83-96, Mar 2016.
Vahter M. Genetic Polymorphism in the Biotransformation of Inorganic Arsenic and its Role in Toxicity. Toxicology Letters. Vol 112-113, 209-217, 15 Mar 2000.
van Poppel G, et al. Brassica Vegetables and Cancer Prevention. Advances in Nutr and Cancer 2, Vol 472, 159-168.
Xie HG, et al. Genetic Variability in CYP3A5 and its Possible Consequences. Pharmacogenomics, Vol 5, No 3, 243-272, Apr 2004.
Yao HT, et al. Protective Effects of EGCG Against Acetaminophen-Induced Liver Injury in Rats, Biomedicine, 5(3):15, Sep 2015.
Life
Nama-stay away from this material
Yoga is the perfect way to destress while still giving your body a good workout. It's as beneficial for the mind as it is for the body! Plus, it doesn't hurt that you don't have to leave the house to practice it. But while yoga might be good for your health, your yoga mat could have hidden health risks.
The Problem With Yoga Mats
When you think of a yoga mat, you probably picture a soft, sponge-y material that you can easily roll and bend. Turns out, most yoga mats are made from polyvinyl chloride- otherwise known as PVC or vinyl. While this material is good at proving grip and padding, PVC is actually a type of plastic. PVC starts out as a really hard material, but becomes flexible when phthalates are added during production. Your super flexible yoga mat probably has a lot of phthalates added to it, which means you could be exposed to endocrine disrupting chemicals during your downward-facing dog. Yoga mats are also known to peel and flake as they age. These little crumbs could end up all over your house and you could be exposed to harmful chemicals even when you're off the mat!
Plus, the production of PVC is horrible for the environment and can be a big source of pollution. It has also been known to contribute to climate change. That's just not a material we want to purchase!
What You Can Do
Never fear! There are tons of PVC-free yoga mat options out there. Try looking for a yoga mat that's 100% made from natural materials like cotton, cork, or natural rubber. These materials will still provide padding while reducing your exposure to harmful chemicals. Jute is another great option, but be sure to avoid any mats that mix jute with polymer environmental resin (PER), which contains PVC (1).
You can also look for yoga mats that specifically say they're PVC-free, but make sure to carefully check out the materials the mat is made up of. Just because it's advertised as PVC-free doesn't mean it's made from better materials.
If you have an old yoga mat you're no longer using, call your local recycling facility to see whether or not they could recycle it. But be aware that it might be difficult to find a facility that will accept it, since PVC is notoriously hard to recycle (2).

References
Life
Don't let these chemicals ruin your holiday cheer
You may need to be careful rockin' around the Christmas tree this year! Why you ask? Well, there might be some unexpected chemicals in that holly jolly decoration above your head. Holiday decorations can bring great cheer, but sometimes they can contain an unwanted surprise. Some decorations may be made with toxic chemicals - keep a look out for the ones below!
Life
Tips to reduce your exposure to these hazardous chemicals
Artificial Christmas trees are becoming increasingly popular for families. They're seen as being convenient since they don't shed needles and can be reused year after year. Because they can be reused, families tend to save money by choosing artificial trees over a real one. A study from the The American Christmas Tree Association (yes that is a real and reputable organization!) performed a life cycle analysis and found that one artificial tree that's reused for eight or more Christmases is more environmentally friendly than purchasing a real tree each year (1). The study also found that Christmas trees, both real and fake, accounted for a tiny part (< 0.1%) of a person's annual carbon footprint.
But are artificial Christmas trees as good for your health as they are for your wallet? The majority of artificial trees are made using a plastic called polyvinyl chloride (PVC) and lead, which is used to stabilize PVC (2). The lead in the trees break down over time and forms lead dust. These particles are released into the air and can cause health issues, especially in young children. Most people do not realize that artificial trees contain lead, and only California requires a lead warning label (2). It is estimated that there are 50 million households in the United States that own artificial trees with lead in them (3).
Don't panic! If you are an owner of an artificial Christmas tree made out of PVC, there are precautions you can take to reduce your family's exposure to lead.
PVC releases more gases when it is first exposed to air. They also release gases as they degrade. A good way to reduce the amount of lead in your household is to take the tree out of the box and air it outside when you first purchase it (4).
If you have used your artificial tree for many Christmases, you may want to consider purchasing a new one. PVC tends to weaken and degrade after nine years (4). Newer artificial trees do not leach as much lead as older ones.
Light cords that come with your artifical tree are prone to have levels of lead that exceed the limit set by the EPA (4). It is recommended that you wash your hands immediately after touching light cords. And definitely don't let young children handle cords.
If you're currently tree-less and in the market for an artificial one, consider purchasing a tree made out of polyethylene. This plastic is safer than PVC and does not leach lead. Additionally, trees made out of polyethylene tend to be more durable than PVC trees.
While artificial PVC Christmas trees don't pose a high health risk overall to the general population, it's very possible for young children to have severe negative health effects (3). It's important to be aware of the health risks that go along with trees made out of PVC, and the ways to avoid lead exposure for yourself and your family this holiday season.
References
Family
Hint - there's a lot of junk food involved!
Sometimes it may feel like everywhere you turn, there's some sort of junk food being advertised—whether that's cupcakes or fries or deep fried things on a stick. And more than sometimes, you have a child begging you for a sweet treat or sugary drink. It can feel like a daunting task at times to encourage and foster healthy eating. While we know there are many factors that influence a child's food choices, here's one that you may not have thought of.
Life
We don't need these chemicals messing with our #selfcare
December means it's time to start thinking about those stocking stuffers or Chanukah gifts for your loved ones. What's better than a bath bomb to relax and take in those sudsy, therapeutic fragrances? Bath bombs can also get your kids to bathe without putting up a fight. They're basically magic! But, have you stopped to think what else they are putting in those bombs to make those suds glisten and fizz?
What's in a Bath Bomb?
It turns out, there can be a whole range of questionable chemicals packed neatly into those appealing little bombs. It's hard to tell exactly what's in each bath bomb because the ingredients vary widely among manufacturers, but fragrances, artificial colors, boric acid, and glitter are some common ingredients.
Fragrance is never a welcome sight on the ingredient list. The FDA does not require companies to disclose ingredients used to make fragrances in products like bath bombs in order to protect company "trade secrets (1)." Many synthetic and natural fragrances also include such hormone-disrupting chemicals as phthalates, which can be absorbed through the skin and have been found to pose specific risks for pregnant women and children (2). Studies have also linked health effects of phthalates to miscarriage, gestational diabetes, reduced IQ, and ADHD with increased exposure to phthalates.
As for dyes, the evidence is limited when it comes to FDA approved dyes readily being absorbed through the skin. However, one study found that certain dyes may be absorbed after shaving (3). Also, young children often swallow water while bathing and ingestion of some of these chemicals for young children is definitely not recommended!
Boric acid also has some side effects that you may not want to risk. It can be absorbed through the mucous membranes and has been linked to hormone disruption and developmental and reproductive toxicity (4). And then there is glitter, which is just more plastic that can end up in our lakes, rivers, and streams.
Alternatives and DIY Recipes
While there may be harmful ingredients in some bath bombs, you don't have to give them up! It's easy to avoid these ingredients with just a little extra effort. You can choose to purchase "fragrance-free" or "phthalate-free" bath bombs, but making your own bath bomb is super easy. Here are also some DIY recipes to try at home.
Ingredients
1 cup baking soda
½ cup citric acid
1 tablespoon cornstarch
1 teaspoon cream of tartar
½ cup finely ground sea salt
1 ½ teaspoons almond oil (or apricot oil)
½ teaspoon coconut oil
1 tablespoon of witch hazel
1 teaspoon beet root powder
wild orange essential oil
rose essential oil
Directions
Blend all dry ingredients in a bowl.
Blend wet ingredients in another bowl.
Combine all ingredients.
Place in mold of choice or just form a ball about 1-2 inches in diameter.
Allow the bath bombs to dry for approximately 1-2 days.
To use, place bath bomb in the bath.
To store, place in airtight container. Storing in a refrigerator can allow the bath bombs to keep for about 3 weeks (5).
References
1.https://www.fda.gov/cosmetics/cosmetic-ingredients/fragrances-cosmetics
2.
https://www.atsdr.cdc.gov/toxprofiles/tp73-c1.pdf

3.
https://www.ncbi.nlm.nih.gov/pubmed/23127598

4.
https://pubchem.ncbi.nlm.nih.gov/compound/Boric-acid#section=Health-Hazardhttps://draxe.com/health/are-bath-bombs-safe/

5.
https://draxe.com/beauty/diy-bath-bomb-recipe/

6. https://homemadeforelle.com/bath-bombs-for-kids/#Ingredients
Want an easy way to live healthier?
Sign up for our newsletter! Curated environmental health news delivered to your inbox every three weeks.