We can't get enough of these stylish and functional bottles!
One small perk of 2020 was that we spent a lot of time outside. Shelter in place and social distancing meant countless hikes, walks around the neighborhood, and picnics with our households. And no matter what, we always had our trusty reusable water bottle by our side! Reusable water bottles are great for both the planet and your own health. You probably already know why plastic bottled water isn't so great, which is why we're all about glass and stainless steel. Both materials will keep your water tasting fresh without leeching harmful chemicals into your drink. Looking for a new reusable water bottle but don't know where to start? Check out our top picks below!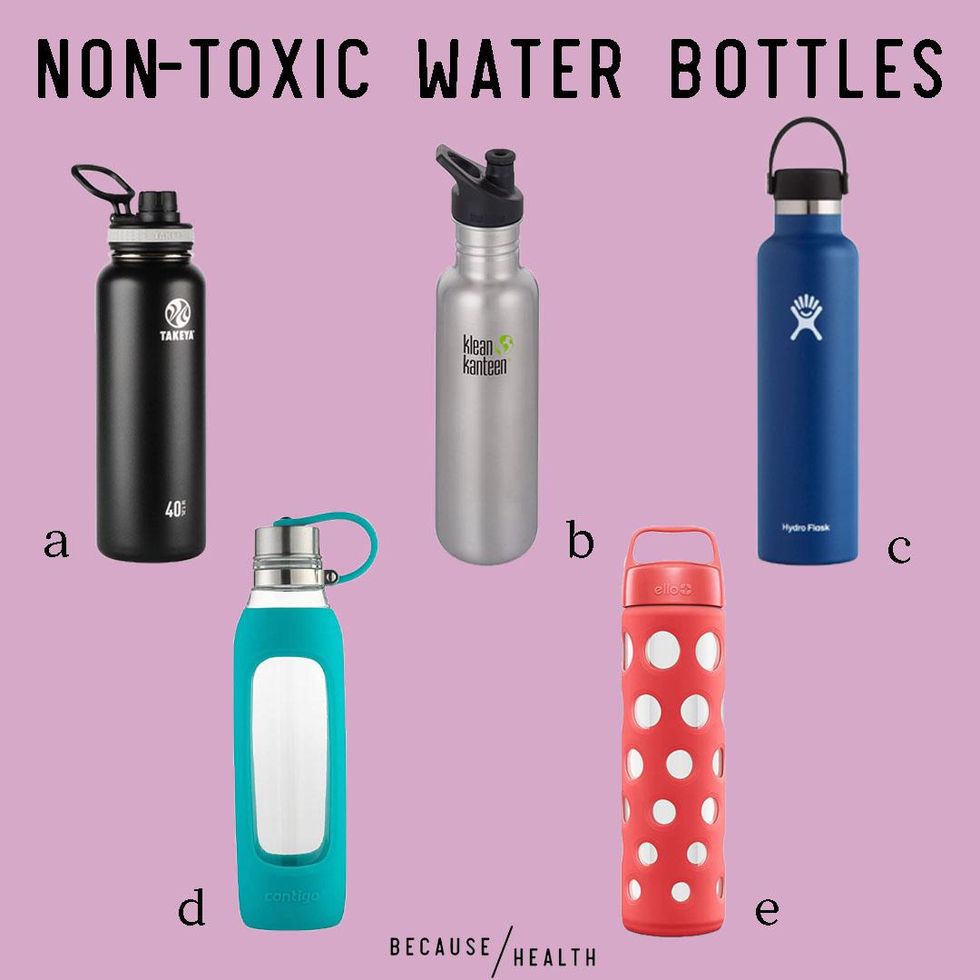 a) Takeya Black Originals Vacuum-Insulated Stainless-Steel Water Bottle
b) Klean Kanteen Classic Stainless Steel Singel Wall Non-Insulated Water Bottle with Sport Cap
c) Hydro Flask Water Bottle - Standard Mouth Flex Lid
d) Contigo Purity Glass Water Bottle
Want an easy way to live healthier?
Sign up for our newsletter! Curated environmental health news delivered to your inbox every three weeks.
Donate
Life
A healthier you and a healthier planet
Goodbye 2020, hello 2021! We feel like this year will be a good one. We wanted to start the year off right right by making some non-toxic resolutions. Why not challenge ourselves to do something thats good for ourselves and good for the planet?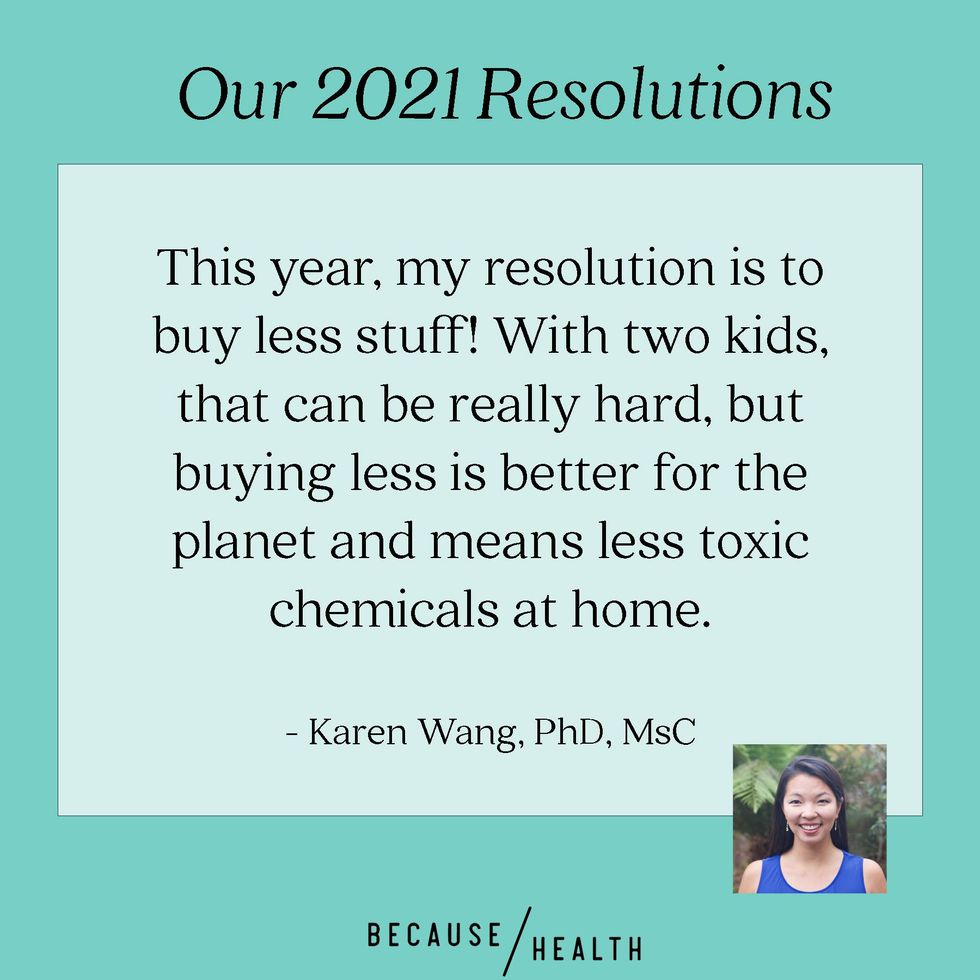 Our director Karen wants to reduce her spending and buy less stuff. Which could be hard with two kids, but she's up for the challenge!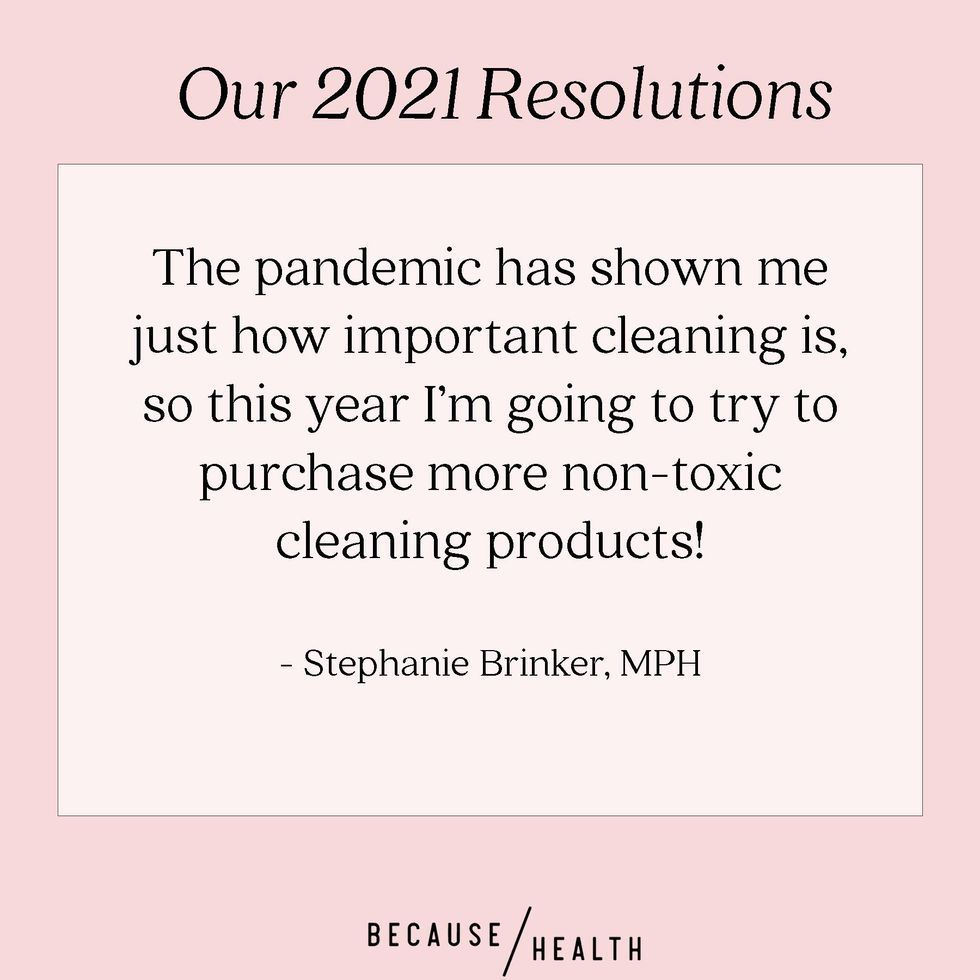 Comms associate Stephanie wants to switch to more non-toxic cleaning products! The pandemic has shown just how important cleaning is, so the more safer cleaning products, the better!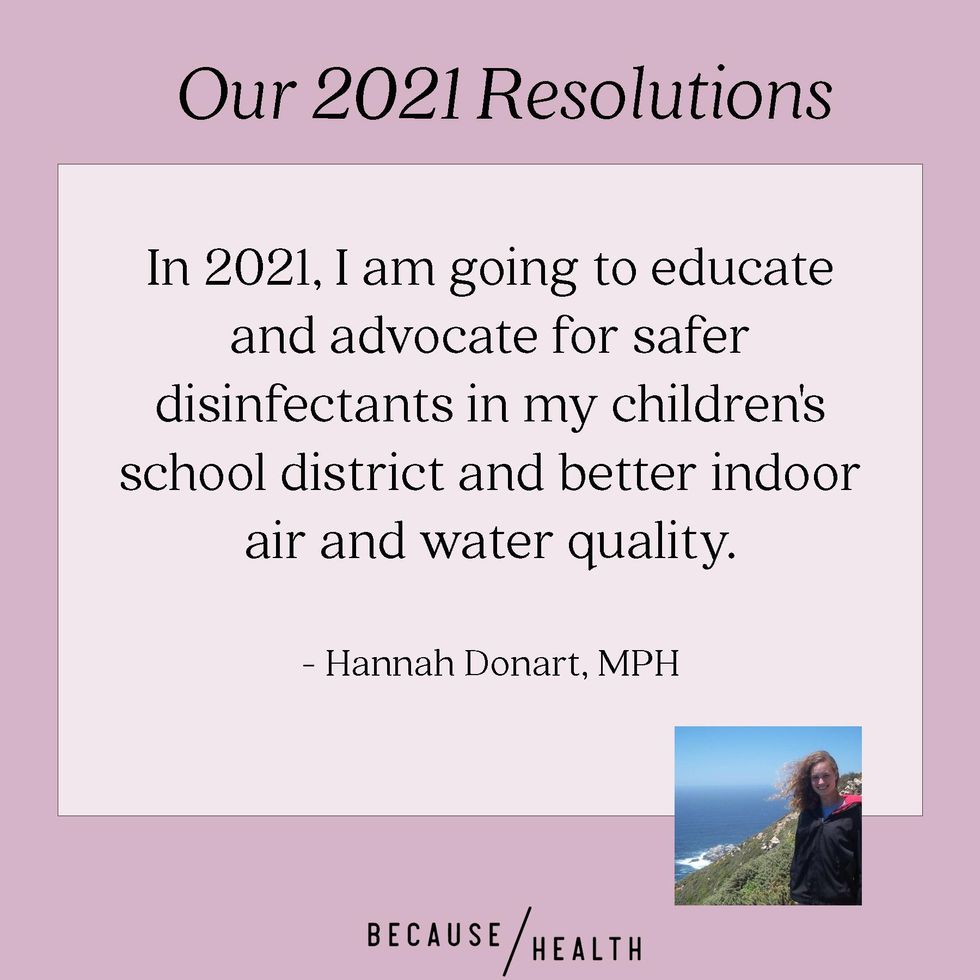 Like Stephanie, our program manager Hannah's resolution also focuses on cleaning. She wants to keep pushing for safer disinfectants to be used in schools.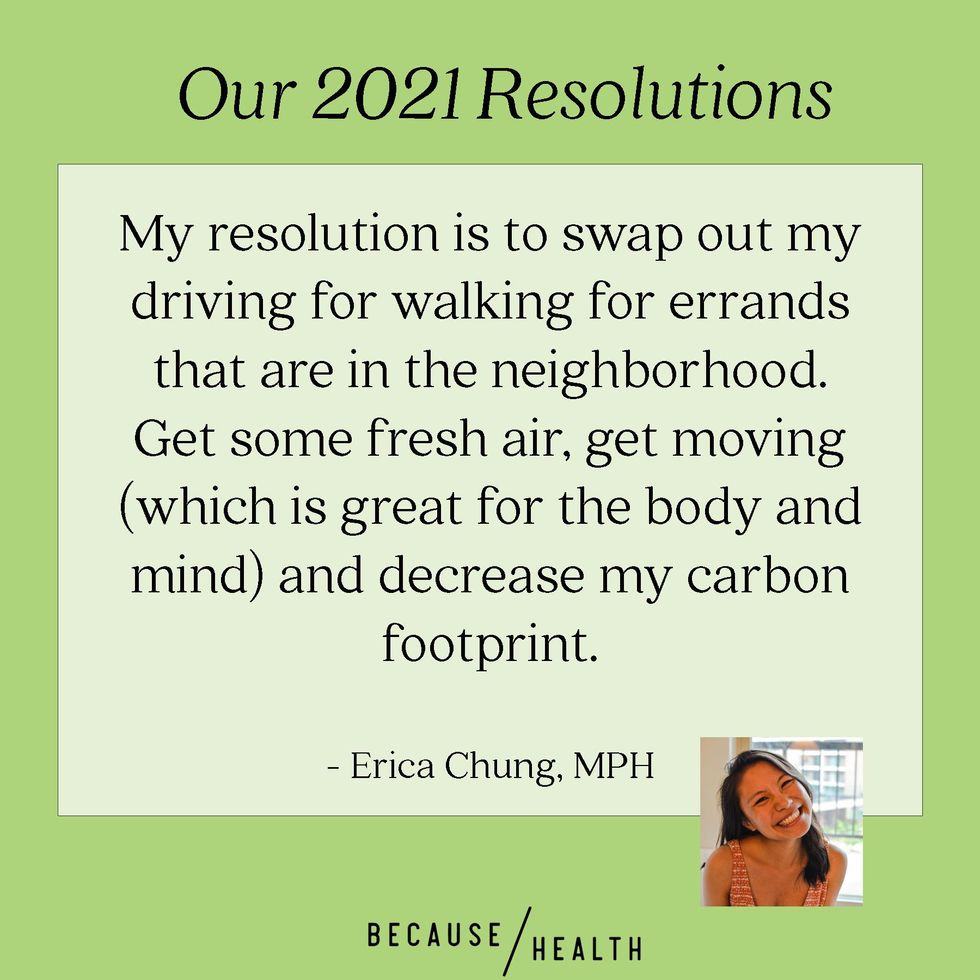 Freelancer Erica wants to walk instead of drive when she has errands to run in her neighborhood.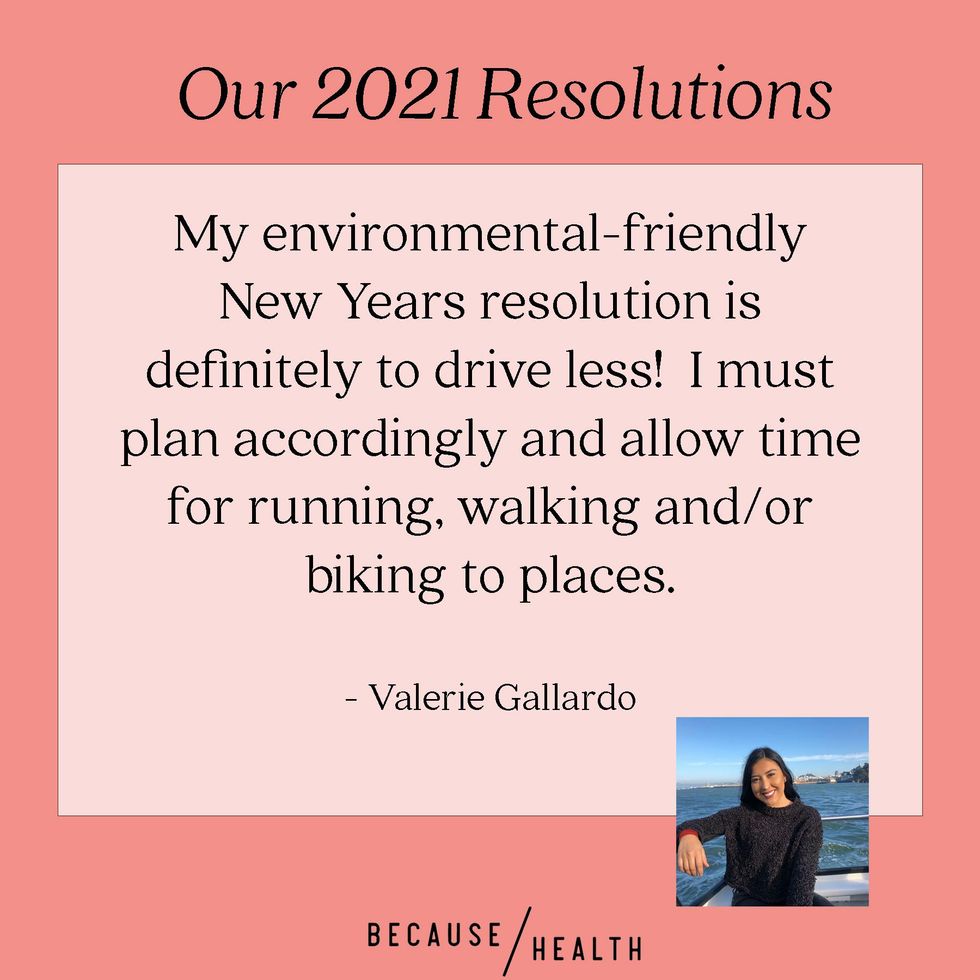 Freelancer Veronica wants to ditch her car whenever possible so she can exercise more!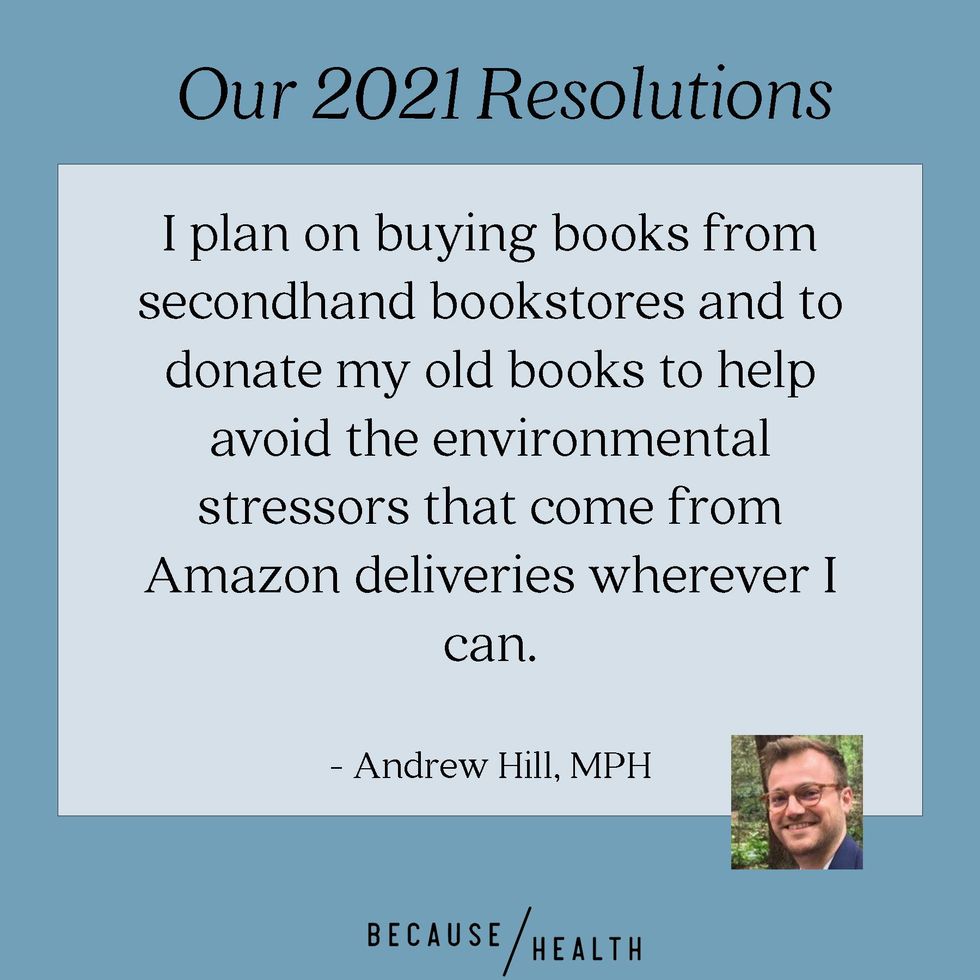 In order to avoid needless Amazon deliveries, freelancer Andrew will buy new books from a secondhand bookstore and donate his old books to the library!

It's the most wonderful time of the year... to do some baking! We love getting creative in the kitchen during the holiday season, but a lot of baking essentials can be made from harmful materials like plastic or contain artificial colors or flavors. That's why we created a non toxic baking holiday baking roundup! Each item is made from safe materials like ceramic, wood, and steel so you can create some sweet treats without worry!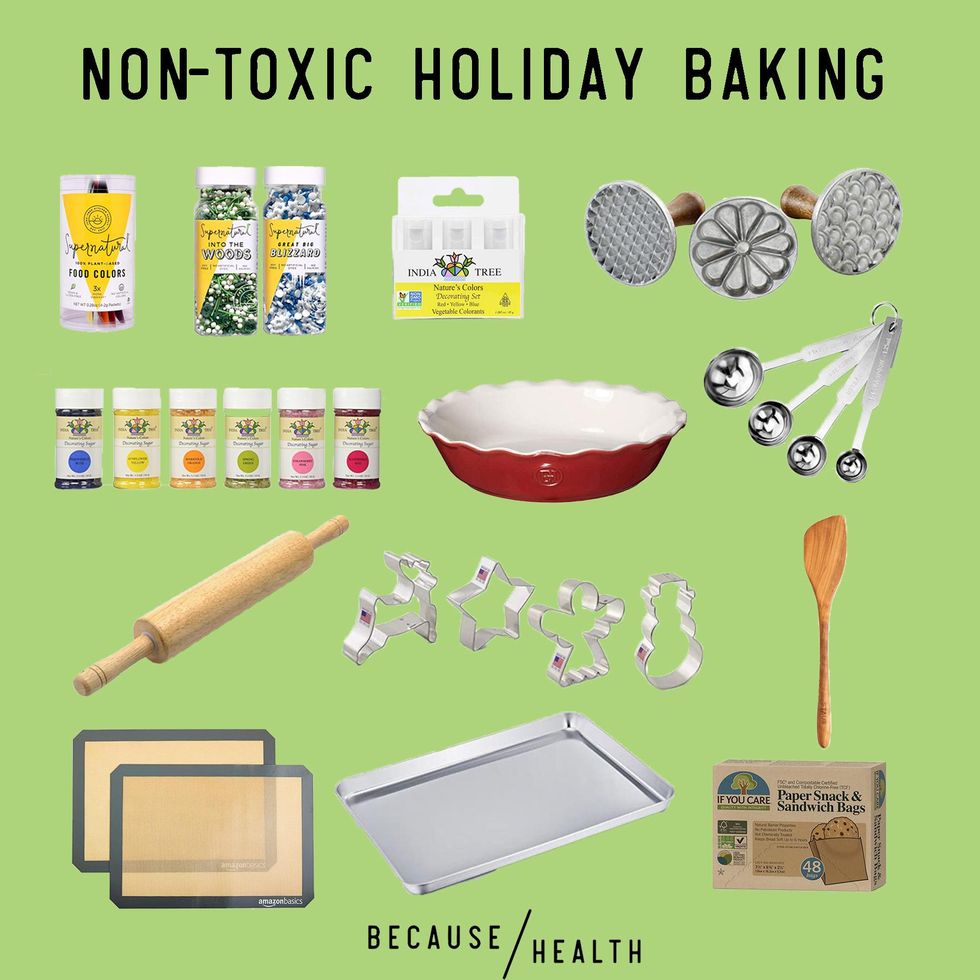 a) Stainless Steel Measuring Spoons and Cups
b) Supernatural Into the Woods Sprinkles
c) India Tree All Natural Nature's Colors Decorating Sugar Variety Set
d) Ann Clark Cookie Cutters 11-Piece Winter Christmas Cookie Cutter Set
e) Farberware Classic Wood Rolling Pin, 17.75-Inch, Natural
f) STAUB Olivewood Spatula, 12", Wood Emile Henry Modern Classics Pie Dish
g) AmazonBasics Silicone, Non-Stick, Food Safe Baking Mat - Pack of 2
h) TeamFar Baking Sheet Cookie Sheet Set of 2
i) Food Colors Variety Pack by Supernatural
j) Nordic Ware Starry Night Cookie Stamps
k) If You Care Unbleached Paper Snack Bags
l) India Tree Food Coloring
Food
The tasty alternative to conventional wine
Whether you're relaxing at the end of a stressful day, toasting the New Years, or eating a picnic brunch, chances are there's wine involved! Wine is our go-to alcoholic beverage because it's so versatile and delicious. But conventional winemaking often relies on pesticides and additives to produce a bottle of vino. That's where natural wine comes in. Natural wine has gone from a small, underground trend to a pretty big deal. With widespread availability in restaurants, shops, and wineries, natural wine is here to stay. But with so many terms like natural, organic, biodynamic, the whole natural wine world can be a bit confusing, so here's a simple guide on what you need to know.
What is Natural Wine?
There are some pretty big differences between natural wine and the usual wine you'd find in a grocery store. Conventional wine making relies on many different external factors to produce a bottle of wine. To start, vineyards are often sprayed with dozens of harmful chemicals like Glyphosate to keep pests and weeds away. After harvesting grapes, wine makers can then add ingredients to the grapes in order to control the manufacturing process-- additional yeast to help with fermentation, sulfur dioxide to reduce oxidation and prevent bacteria from growing, or artificial ingredients to improve a flavor profile or color of the wine (1). Even though approximately 60 additives have been approved for winemaking use, an ingredient list is not required on wine bottles (2). It's hard to believe that additives like egg whites, mega purple, bentonite, and sulfur dioxide make their way into your happy hour glass (5)!
Natural wine, on the other hand, aims to "add nothing and take nothing away" during the wine making process (3). This means no pesticides are used in the vineyards and the grapes ferment on their own with naturally occurring yeasts after being hand picked. Sometimes winemakers have to add a minute amount of sulfur dioxide or yeast to correct a manufacturing problem (3), but in general they don't rely on additives when making natural wine. In fact, they try to be as hands off as possible! Natural wine often has some sediment in the bottom of the bottom, a cloudy appearance, or may have a complex taste.
One thing to note about natural wine- there's no universal standard of what "natural" wine means. This means it's usually up to each winemaker to figure out their best practices. Some countries have attempted to create their own definition of natural wine, but not everyone is on the same page. Take France, for example. Their national agricultural organization has recently formally recognized a two-tried definition for natural wine, but many winemakers have pushed back against the government's definition. To make things more complicated, the European Union doesn't even allow the term on wine labels (6)!
Even though there are complexities surrounding the definition of natural wine, we still think it's worth checking out. Knowing that the wine you're drinking is basically additive-free really gives us peace of mind. And the unique flavors of natural wine means every bottle is it's own adventure!
How are Organic and Biodynamic Wines Different From Natural Wines?
Wine variety doesn't stop at natural! Organic, biodynamic, and vegan are three other types of wine available to consumers. Vegan wine doesn't use animal products, but can still use pesticides or other additives during production. Even though organic wine can be confused with natural wine, they're actually two different things. And to make things more complex, organic can actually mean two different things in winemaking: wine made from organically grown grapes or wine that's organic (4). Wine made from organically grown grapes means that there are no pesticides used during the growing process but, more often than not, still contain additives. Wine that's organic is made from organically grown grapes that don't use pesticides during the growing process, and also doesn't contain added sulfites. There's a lot of information to keep track of! When in doubt, just look for a USDA organic label or the phrase "100% organic" on a wine bottle. Wine must pass a rigorous five-step process in order to be USDA certified as organic and follow strict labelling guidelines, so you can be confident that the wine you're buying is the real deal (7, 8)!
Biodynamic vineyards, on the other hand, relies on a "holistic, living farm" (4) practice that incorporates a specific astronomical calendar to create their wine. Biodynamic farmers incorporate the climate, organic material, wildlife, water recycling, and natural pest-avoidance methods into their practices to both grow grapes and wine (4). Biodynamic wine also has principles and standards for how grapes are processed and made into wine. The Demeter certification process for biodynamic wine can actually be tougher than the organic certification process! It has stricter requirements on "imported fertility, greater emphasis on on-farm solutions for disease, pest, and weed control, and in depth specifications around water conservation and biodiversity (4)". But you still frequently see biodynamic wine labeled as organic because biodynamic farms pretty much use organic practices.
There's basically a whole new world of natural, organic, and biodynamic to discover! Although many of these winemaking techniques are hundreds of years old, so maybe we're just on a path of rediscovery? Either way, we're loving it. The next time you find yourself wandering down the wine aisle looking for something new, why not pick up a bottle of natural wine (or two)? You can purchase natural wine from many online retailers, including Dry Farm Wines, Primalwine, Plonk Wine Club or The Natural Wine Shoppe. Some of your local wine shops might even specialize in natural wine! Even if they don't, local wine shops might still carry some stock or be able to source a few bottles for you. Just ask!
References
Life
What toxic chemicals are in artificial Christmas trees and tips for how to stay safe
Artificial Christmas trees are becoming increasingly popular for families. They're seen as being convenient since they don't shed needles and can be reused year after year. Some even come with lights already on them! But is the convenience of artificial Christmas trees worth it? We break down the science and the pros and cons of artificial Christmas trees and farm grown real Christmas trees to help you have a healthy and sustainable Christmas!
popular
Here's the key to finding a perfect non-toxic gift for kids of all ages!
The holidays are right around the corner, which means we're on the hunt for cool and unique gifts! That's why we've put together gift guides for everyone on your list. Looking for non-toxic, sustainable, eco-friendly, and fun gifts for kids? Look no further!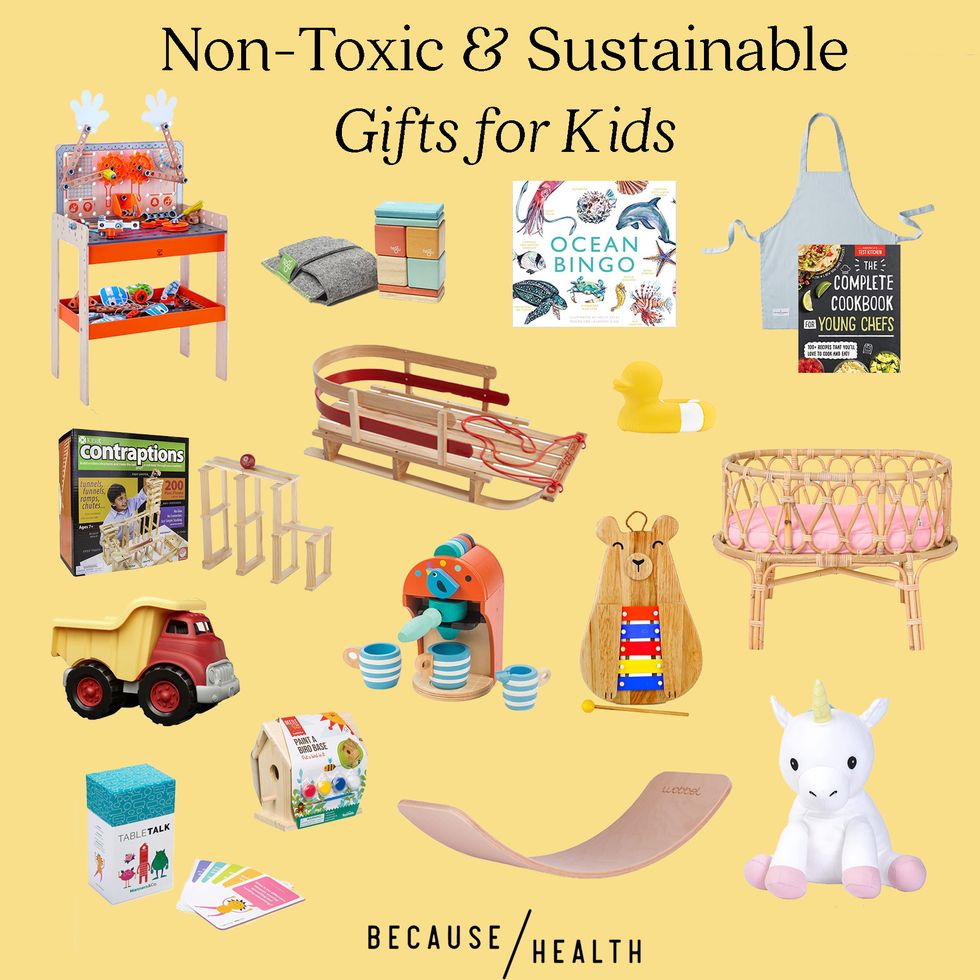 Non-Toxic and Sustainable Gifts for Kids
$: Under $50
Toysmith Beetle and Bee Paint a Bird Base, Backyard Birdhouse Kit
Welcome birds into your backyard with a fun eco-friendly project that kids will love doing. We also love that this company uses FSC certified wood.
This dump truck with some gravel or dirt gets non-stop play at our house. It's always a favorite in the sandbox too. It's super durable, yet light enough to take to the playground. Green Toys are made from recycled plastic milk containers, and contain no BPA, pthatlates, or PVC.
Oli and Carol, FLO the Floatie Natural Rubber Duckie
A rubber duckie is a favorite bath toy for a reason, but synthetic rubber is full of yucky chemicals like phthtalates. That's why we love this natural rubber version. Bubble baths just got a lot more fun!
Beautifully illustrated twist on traditional bingo. This is a fun way to learn about ocean creatures that brings the family together. It's a simple game, but one that your family can play over and over again.
Tegu 8 Piece Pocket Pouch Magnetic Wooden Block Set
This is the perfect first building set for younger kids that will still be fun years later. We love how portable this is and can be thrown in the diaper bag for on the go fun and entertainment. Not only is the wood sustainably source, but Tegu employs local workers in Honduras and pays them a living wage. Now these are blocks we can get behind.
Kids Organic Apron + Cookbook for Young Chefs

Cooking is a great way for kids to explore new foods and flavors and get excited about healthy eating. This organic apron and the award winning Cookbook for Young Chefs is the perfect starter gift set to get any kid started in the kitchen.
Elly Lu makes extremely cute organic stuffies that we love. There is also a really cute book that goes along with the stuffed animal that helps the stuffed animal come to life. The cloth is OCS Certified Organic Cotton and filled with a recycled polyfill made from recycled water bottles. They also have narwhals, tigers, elephants and more!
This is a top quality cute glockenspiel with beautiful crisp sounds. It's made from eco-friendly rubberwood and the clever designs mean that kids don't take the bars on and off. That's less cleaning up for parents!
Tender Leaf Toy Espresso Machine
If it's your dream to have your kids make your cup of coffee in the morning, this wooden espresso machine is great for pretend play. It's eco-friendly and quality made and is the perfect gift for a budding barista.
$ $: Between $50-100
Made from solid pine, KEVA Contraptions are a fantastic building and engineering toy for older kids. This set includes 200 wooden planks that can be used to build scaffolding, ramps, paths, and much more. Kids will have so much fun making their own Rube Goldberg machine in their living rooms.
Manners&Co TableTalk Conversation Cards
Use this set of 135 cards to spark meaningful conversations with kids at the dinner table or in the car. It's a great way to get even the most reticent little ones (and partners) thinking and talking. There's a good variety of topics that can be revisited time and time again.
A fun and quality workbench that will inspire kids to experiment and tinker. This set includes contains everything children as young as four need to conduct over 15 experiments and learn basic scientific principles. Made of FSC certified wood like all Hape toys.
This beautiful doll crib is made from sustainably sourced rattan and cotton. It is a heirloom piece that will inspire hours of pretend open-ended play. The fact that it's beautiful enough to fit in with your decor is just a bonus.
$ $ $ : Over $100
This quality balance board promotes balance and creativity. The board can be used a bridge, boat, and anything else they can imagine! This board is made with European FSC beech wood and even adults will have fun with it.
A heirloom quality pull sled for the littlest snow explorers. We love that it's beautiful enough to function as holiday decor when it's not in use. We also love that it's not plastic, which inevitably cracks and breaks and contributes to our plastic pollution problem.
Life
Beauty, food, loungewear, and more!
The holidays are right around the corner, which means we're on the hunt for cool and unique gifts! That's why we've put together gift guides for everyone on your list. Looking for non-toxic, sustainable, eco-friendly, and fun gifts for her? Look no further!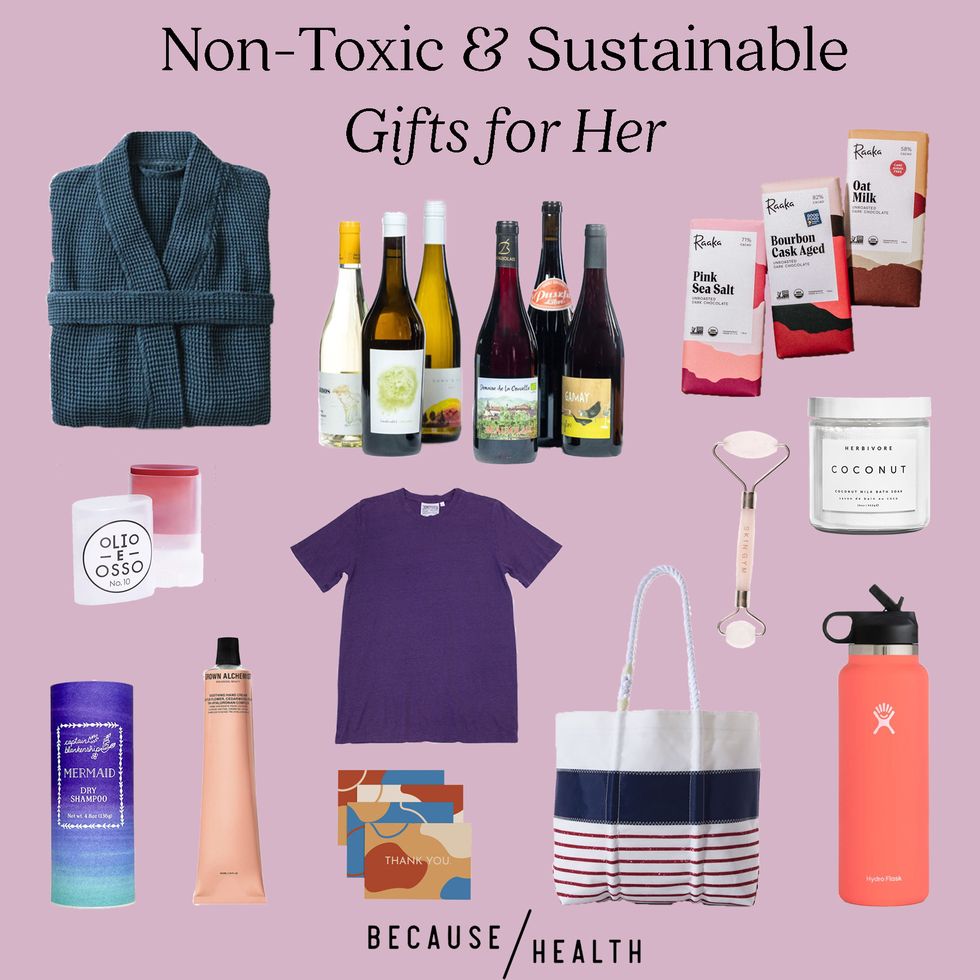 Non-Toxic and Sustainable Gifts for Her
$: Under $50
Aya Paper Co Retro Thank You Card Set
Hand written notes will never go out of style and this is the perfect time to reach out and connect with friends and family. These thank you cards from Aya Paper Co are printed with 100% non toxic toner on 100% PCW Recycled, PCF chlorine free paper.
Captain Blankenship Dry Shampoo Powder
No bad hair days here! Captain Blankenship Dry Shampoo Powder will keep your hair looking refreshed even when you don't have time (or motivation!) to shower. The aluminum free baking soda, organic arrowroot and kaolin clay will absorb oil without leaving any residue or nasty chemicals in your hair.
Olio E Osso Natural Lip and Cheek Balm
This Natural Lip & Cheek Balm from Olio E Osso is about to be your next makeup obsession. This multitasker comes in numerous shades (we're a big fan of Tea Rose), gives a natural glow, and is made with safe ingredients.
Self care gets a major upgrade with this Rose Quartz Facial Roller from Skin Gym. Natural rose quartz will help de-puff your skin and create a radiant glow. Plus it just feels good, which is good enough of a reason for us.
Herbivore Coconut Milk Bath Soak
Bring the spa to you with Herbivore's Natural Coconut Milk Bath Soak. This luxurious bath soak only contains 4 ingredients and will leave your skin soft and hydrated. This is just what you need for the perfect Friday night in.
Grown Alchemist Intensive Hand Cream
Grown Alchemist Soothing Hand Cream is perfect for hands ravaged by harsh hand sanitizer and constant hand washing. Instead of petroleum products and harsh preservatives, this hand cream has aloe vera and cactus flower extract help to relieve dry skin and keep hands moisturized.
$ $: Between $50-100
On the hunt for the perfect t-shirt? Look no further! The Jung Tee's relaxed fit makes it perfect for any occasion. Plus, it's made from 55% hemp and 45% organic cotton! We increasingly are into hemp because it's a natural material that requires almost no pesticides, irrigation, or fertilizer to grow.
Hydro Flask Water bottle with straw lid
Hydration meets style! This Hydro Flask stainless steel water bottle is super durable and comes in a bunch of fun colors. We love the straw lid and find ourselves drinking way more water this way.
Raaka Organic Chocolate Gift Subscription
This 3 Month Gift Subscription to Raaka Chocolate is a total crowd-pleaser. Who doesn't love chocolate?! And Raaka's transparent trade policy and quality organic ingredients made this treat a no brainer.
Stay cozy during those long winter days in this GOTS certified, organic cotton robe from Coyuchi. We guarantee it's the first thing you'll reach for in the morning and the last thing you'll have on before going to sleep.
$ $ $: Over $100
This cute Red Mariner Stripe Tote from Sea Bags will hold all your essentials and look good doing it. Handmade from recycled sail, this tote is the perfect work bag... even if you're just commuting to your home office!
Dry Farm Wine 6 Bottle Gift Box
Want to try natural wine but don't know where to start? Then a Dry Farm Wine gift box is perfect! It's a great introduction to organic, biodynamic, wild yeast, and more. This curated mix of reds and whites is lab-tested and delicious!
Want an easy way to live healthier?
Sign up for our newsletter! Curated environmental health news delivered to your inbox every three weeks.